Family and friends mistakenly believe that I can do anything. They are wrong. For years, every spring I would go to the local garden center and buy seeds or seedlings, organic soil, organic fertilizer, chemical fertilizer, peat moss, vermiculite, planters, upside-down planters and I try to grow a small vegetable garden. I carefully prepare the soil. If I transfer a seedling I soak the roots in a fertilizer tea. And every single year I fail. I heard zucchini grows like weed. I heard stories of people harvesting so much zucchini from a few plants that they leave a basketful of zucchini on an unsuspecting neighbor's porch. I managed to have 1 single, small zucchini one year. Let's not get into growing tomatoes. Or bell peppers. I cannot grow a garden. I water my plants, I even got a soil kit once to check the nutrients in the soil...nothing worked so far. I tried herbs too. Oregano, rosemary, etc. They would not even sprout. But I always had success with basil.
That's the only plant I have been able to grow.
This year I decided that I was done failing and only planted basil. I did plant 3 different species for variety and they are all growing well. As a matter of fact, we have so much basil that I was able to make pesto twice this week. My boys love it on pasta, and it makes a nice and easy lunch.
Here is an easy Pesto recipe I have used for years:
4 oz Parmesan cheese, shredded or cubed
1 c tightly packed fresh basil leaves
1/2 c walnuts
2 cloves garlic
1/2 c extra virgin olive oil
I just put everything in my blender (it is a Vitamix, which is more powerful than a regular blender) and turn it on low speed and just let it process the ingredients into a nice thick sauce. I add this to a pound of cooked pasta with some chopped sun-dried tomatoes.
I also use Pesto on hamburgers or pizza. Any suggestions on what else I can add pesto to?
linked up to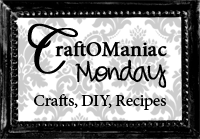 linked up to